This is a process that runs daily and applies a random number of transformations in a random order with random settings to a randomly selected image from my SmugMug site. You can see a list of the results that are currently available. I started to try to do the math as to the number of possible outcomes and…it's beyond me. A lowball, simplified bit of math got me to north of 500,000 quintillion different possible results as of the initial rollout, and that doesn't factor in a number of things that would increase the number of possible outcomes. That's what I wanted: wayyyyyy more than anything I could power through the "all."
High-level, this is what happens (hurray for simplified flowcharts!):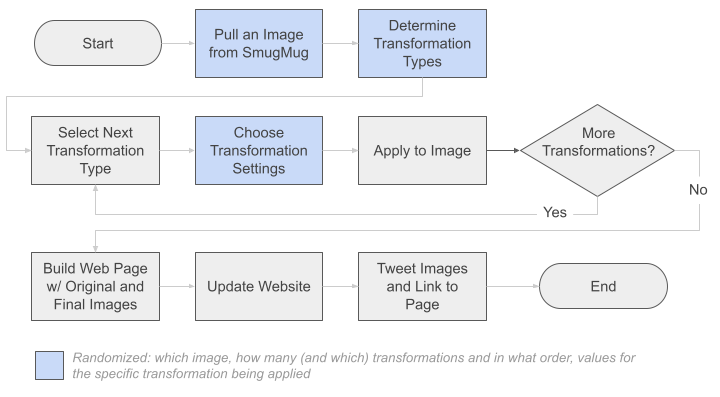 Let's pretend I sketched the above out before I wrote the first line of code and then just went step by step through building out the process. It wouldn't be an unreasonable leap, actually. As I reflect on it now, I pretty much did have this basic sequence of steps in my head, and I did build out the code almost exactly from start to finish in sequence. Wow! Accident, or just a failure to get creative along the way? Who can say?! Read on for details!